'Tis the season to celebrate good food, good friends, and good health.
Coming from Wisconsin, we all know what that means: beer, of course! Between family gatherings at the pub and decking out six-packs with reindeer antlers, there are no shortage of opportunities for breweries to make a huge impression this time of year with branded holiday merchandise.
Not feeling the Christmas spirit yet? Don't worry. We've put together our favorite brewery gift ideas, and your customers are going to love them. Spread holiday cheer (and your beer) this season with:
Seasonal Beer Baskets:
You already know your seasonal brews each deserve a special seasonal glass to serve them in. But why not take it an extra step further with a seasonal beer basket? Take two or three bottles of your best seasonal beers, place them in a basket with their matching beer glasses, and voila! You have a yourself an amazing holiday gift that your customers and their craft beer fans will go nuts for.
#ProTip: Instead of a regular old gift basket, up your gift game with a branded bucket. Check out this gift bucket from Revolution Brewing:

Cozy Hooded Sweatshirts:
The holiday season leaves most of us daydreaming of warm fireplaces, with visions of porters dancing in our heads. Help your customers embrace the coziness with a custom hooded sweatshirt. Whether you go with a holiday vibe or simply stick with your classic branding, hooded sweatshirts are a fan favorite that will put a warm, fuzzy feeling in everyone's hearts, and keep your brand top of mind for years and holidays to come.
#ProTip: You're cozy; why not help keep your beer cozy too with ugly (or cute) knit holiday sweater kan kovers!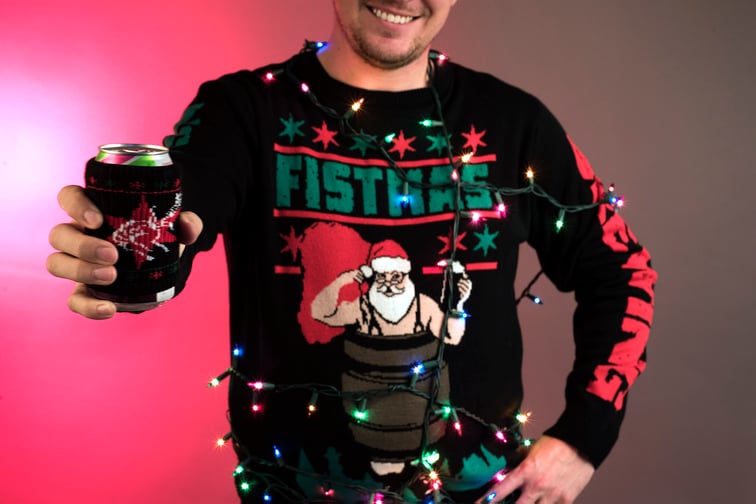 Custom Tap Handles for Winter Brews
Engage customers where the beer is flowing – at the bar. A customized seasonal beer tap handle will help your brand fill customers with holiday spirit and, of course, beer! Not only that will your winter brews stand out against the same old year-round tap handles, but this is the perfect opportunity to give customers a glimpse at the fun side of your brand. It's the season of giving, and you're giving customers a beer experience to remember.
#ProTip: A custom bottle opener that matches the custom tap handle will make sure your brand is everywhere your customer is!
Alright. You're ready. Go off and fill the world with holiday cheer and holiday beer!
Interested in learning more about how Boelter can help with your holiday beer gifts and other branded brewery products? Give us a call at 1-800-BeerCup.
Cheers!