There's something about March that leaves us craving homemade stew and craft stouts. To clinch our thirst and our hunger at the same time, we're celebrating craft stouts everywhere and, of course, St. Paddy's Day, with an amazing Irish stew recipe from one of our BeerCup team home cooks.

BeerCup Chef of the Month:
Sarah Carpenter
Marketing Manager - She spreads the BeerCup gospel.


Favorite Beer Recipe:
Slow Cooker Stout Irish Stew





What you'll need:
2 tablespoons olive oil

1½ lb. lean beef stew meat (or lamb)

1 tsp. coarse salt

1 tsp. ground black pepper

1½ tbsp. whole wheat flour

6 large potatoes, peeled and largely diced

4 large carrots, peeled and diced into 1-inch pieces

½ large yellow onion, chopped

2 cloves garlic, minced

1 tbsp. tomato paste

4 cups beef broth

About 1 cup (+ foam) of your favorite craft stout beer

Salt and ground black pepper to taste


Directions:
In a large pan, heat olive oil over medium-high heat. Turn the slow cooker on

In a large bowl, toss beef together with salt, pepper, and whole wheat flour to coat. Add to the pan and cook until all sides of the chunks are browned (about 8 minutes).

While beef is browning, add potatoes, carrots, parsnips, onions, garlic and tomato paste to the slow cooker. Stir to coat.

Add browned beef, beef broth, and stout beer to the slow cooker and stir to combine.

Cook for 3-4 hours on high or 8-10 hours on low. Add salt and pepper to taste and serve with a pint of your chosen stout.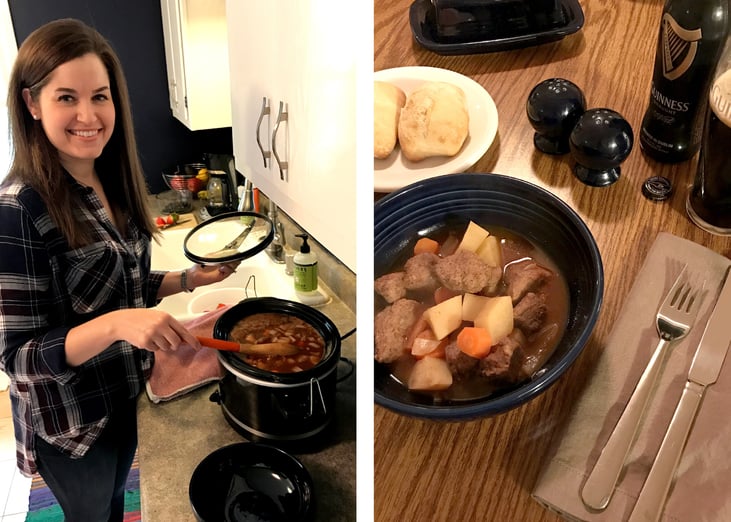 Extra tips from Sarah:
Finding the perfect stout for your stew might take some experimentation. This is the perfect opportunity to get creative, and experiment with different craft stouts

Being Irish, I find this to be as good of an excuse as any to make Irish soda bread to go along with the stew.

I use whole wheat flour because it offers more nutritional benefits than white flour. However, if you prefer all-purpose flour, then use 2 tablespoons.

I'm not a fan of parsnips, but if you don't feel the same, substitute a couple of those roots veggies for a couple of potatoes and carrots.
Enjoy, and have a wonderful St. Patrick's Day!
Sláinte!
(Original recipe by Aberdeen's Kitchen)
---