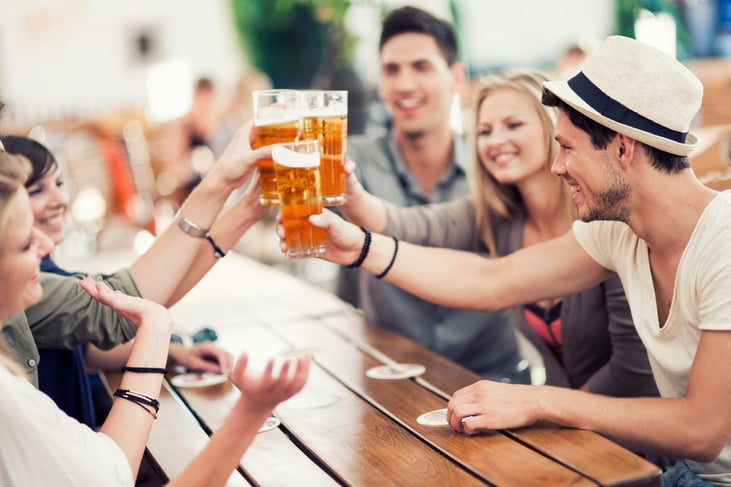 It might be only February, but the days are getting noticeably longer. While the beer gardens sit empty for now, the fantasy of hanging out in the sun sipping a cold one will come to life again in the not so distant future. However, if you want to take that opportunity to showcase your beer and your brand, you're going to have to do a little prep work. Now is the time to get organized and figure out what branded products you're going to need this summer.
WARNING: Don't make the mistake of putting this off, or your summer branding will be ready just in time for autumn.
To help you get things straight, we've created this handy list of possible summer products you should consider for your spirits and brews in 2017. Don't forget to scroll to the bottom for a printable checklist!


Outdoor Drinkware
Avoid the hassle of cleaning up inevitable broken glass on your patio. Consider investing in outdoor drinkware.
Disposable Cups:
Recyclable or compostable disposable cups are both environmental and affordable outdoor options.
Beer Garden Pitchers, Tankards, and Mugs:
Encourage friendship and celebration with these sturdy glass or plastic beer vessels.
Plastic Steins:
The perfect branded souvenir for any outdoor event or festival.
Stadium Cups:
Ideal for showcasing your brand for sporting events, these colorfully customizable cups are dishwasher safe and a great keepsake.

Baseball Gear:

Whether your beer and baseball fans are at the bar or out tailgating, baseball season is a great time to market your brand with products that will last for years to come.

Baseball Pint Glasses:
Why not slide headfirst into baseball season with pint glasses featuring a baseball embedded base?
Baseball Hats & T-Shirts:
Timeless and customizable. Years from now people will wear them as trendy throwback gear.
Coolers:
A real tailgater needs a good cooler. These fans will bring theirs to every game, and along with it, they'll bring your brand.
Custom Keychain Bottle Openers:
No matter the season, a custom keychain will go with your beer lovers everywhere they go and open every beer bottle they drink and any beer bottle their friends drink.
Can Coolies:
There's something about a nice coolie that makes people happy. Wouldn't it be nice if your brand were associated with that happiness?
Tailgating Canopies:
Spending all day in a parking lot can get hot. Keep your fans comfortable and ready for the game with a custom pop-up canopy.
Corn Hole:
No day of tailgating is complete without a round or five of Corn Hole. Help your beer lovers show their beer loyalty with branded boards and bean bags.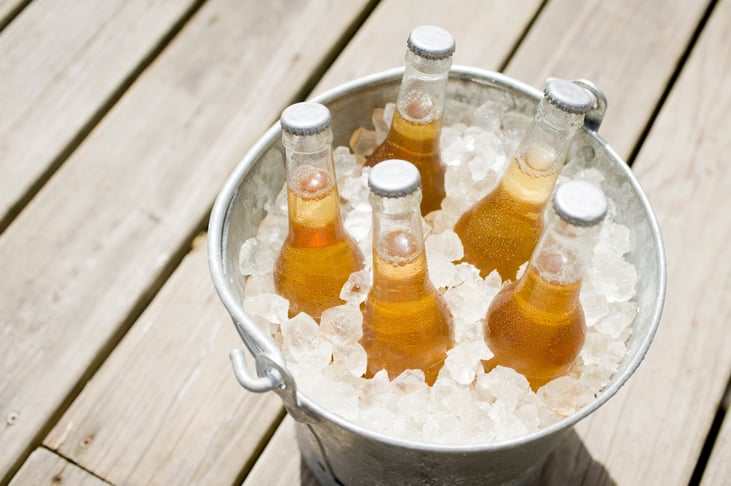 Summer Campaigns: Summer is high drinking season. If you're launching a campaign this year, make sure you're not relying solely on social media likes to succeed.
Sandwich Boards:
Lure that thirsty passerby in off the street with a colorful design and a snappy message to go with it.
Seasonal Beer or Spirits Glasses:
The seasonal brews and cocktails are ready. All they need are beautiful seasonal glassware or drinkware to serve them in!
Added Value Coasters:
You know those glasses we just mentioned? They need coasters to sit on. In fact, how about an added value coaster offering a discount on the next round.
Patio Umbrellas:
Your quality beer and spirit lovers deserve some quality shade this summer. Protect them from the sun, while leaving an impression with your umbrella campaign art.
Beer Buckets:
Need we say more? Nothing says summer like cold beer with friends. This is a prime surface for your graphics.
Custom Summer Packaging:
Once you have them hooked in the beer garden, keep them hooked in-store with summer campaign packaging.
---

Click here to download your very own Summer Branding Checklist.
Interested in learning more about how Boelter can help your brewery or distillery this summer?
Give us a call at 1 (800) BeerCup or send us a message here.
Cheers!


Learn everything about pairing your beers or spirits with the right custom glassware to keep customers drinking out of your glass!